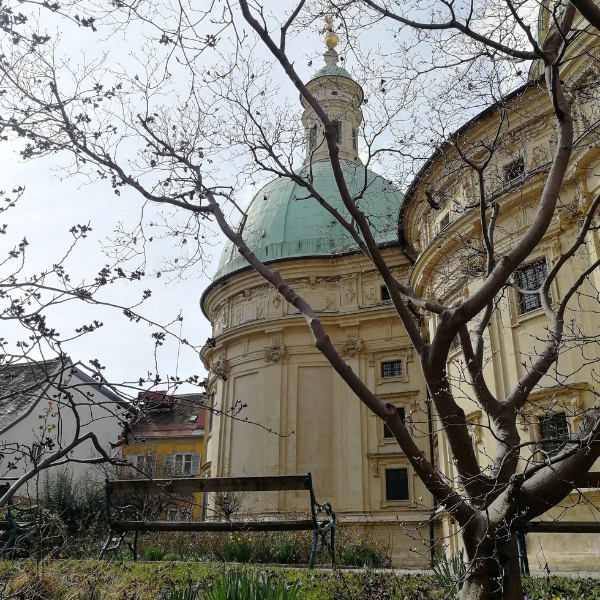 #32 Cozy Benches
The gardens and restaurants are closed and the delicious food is only available "über die Gasse" (that's Austrian for "to go"). But where can you take a break, have a snack and enjoy the spring sun even in pandemic times? We've searched and found a few special places for your break. Secluded benches where you can get your mind off things, amazing green oases in the heart of Graz's old town.
Franciscan Church
In the cloister of the oldest monastery in Graz, you will find a quiet courtyard, with roses, benches, sun or shade. An oasis of peace in the middle of the city.
Grazer Stadtpark
In the Stadtpark dozens of benches are calling for you. Now you have to decide on which one you want to relax. But we'll tell you our favorite bench: the one with a view of the listed Caucasian tree (one of the oldest in the park, by the way). And it's best to sit there in March/April, when everything around the tree is in bloom.
Mausoleum
Behind the Mausoleum there is a nice seating area of several benches. By the way, the back of the Mausoleum is also very worth seeing, you should take a closer look.
Stadtpfarrkirche
Just a step away from Herrengasse you will find the courtyard of the Stadtpfarrkirche. A shady retreat in the middle of the city. A little tip: Walk all the way around the church, you'll be amazed...
Schloßberg
Our castle hill has long since ceased to be a bare rock, but an inviting park. It is especially nice to sit in the Herbersteingarten under the clock tower.
Burggarten
Probably the most secluded places in the city can be found in the secret Burggarten. There is a whole staircase in front of the orangery where you can sit, snack, sleep and play. Attention: In the evening the park is closed!
Next to the very center
In the Grazer Burg, right next to the double spiral staircase, with a view of the honorary citizens of the city, there is not only the centre (a peach core) to touch, but also one of the most beautiful benches in the city. You might even meet the provincial politicians here during their lunch break.
Karmeliterplatz
If you can't take your eyes off our clock tower, we recommend a bench under the trees at Karmeliterplatz.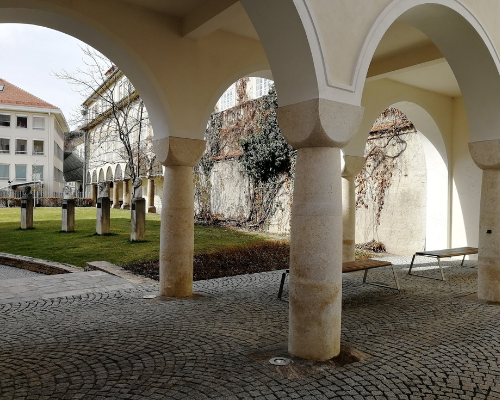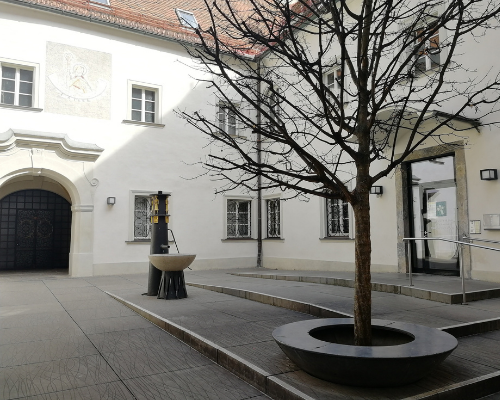 "Stadtpfarrkirche of Graz"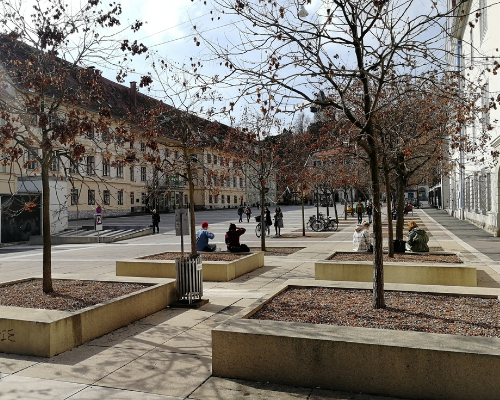 "View to the clock tower"