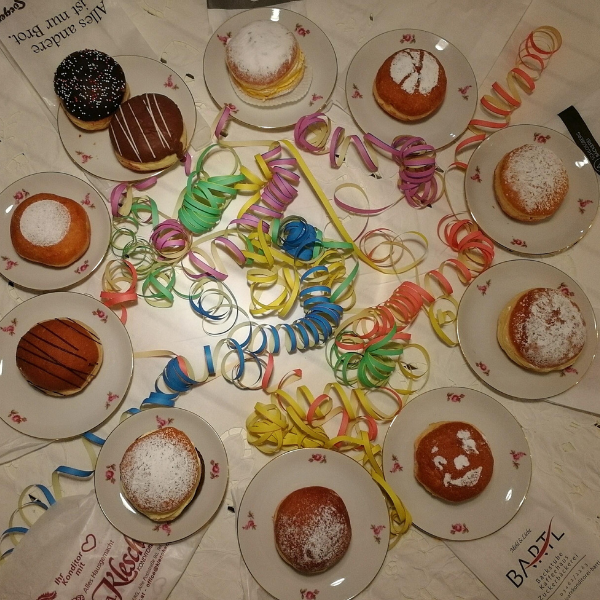 #31 Krapfen
A carnival without a party, without costumes, without a Graz carnival parade on Carnival Tuesday, probably also without a buzzing head on Ash Wednesday, all that is bearable and survivable. But carnival without doughnuts/ Krapfen, that's not possible. What a luck that pandemics and crises cannot harm the huge Krapfen selection in Graz. So for you, self-sacrificing as we are, we made a tasting. We have eaten, discussed, almost argued, certainly enjoyed and all this just to find him, the one, the best and most beautiful of all Krapfen.
Bäckerei Sorger
What a choice! We tried the ` Confetti Krapfen ` and have to admit that this new variant, coated with crunchy chocolate and filled with jam, is really super. But the caramel Krapfen was almost too sweet for us.
Konditorei Klescher
Whether the winner of recent years can convince again this year, we can not answer you, because the classic Krapfen were sold out on our test evening. However, the vanilla Krapfen is not bad either...
Bäckerei Bartl
Vanilla Krapfen you love or hate, you should accept other opinions in any case. Our vanilla-Krapfen-expert nodded in agreement at the Bartl Bakery's Krapfen and ate it whole. The Krapfen with the carnival face is also a real eye-catcher.
Schlossberg Bäckerei
In the case of the Schlossberg Bakery Schudi's Krapfen, the independent jury found the Krapfen to be good, but a bit `doughy `. However, the jury could not agree whether this fact was something good or bad. For one half this Krapfen was the winning Krapfen, for the other half it remained only in the midfield.
SchlossbeKonditorei Philipp
Visually probably the most beautiful Krapfen, classic, very moist.
Café König
The interesting verdict of the test eaters: ` Perfect, because imperfect `. The jam was good but not exactly in the middle, the Krapfen was a little darker and looked most like homemade Krapfen from grandma and that's a compliment!
Kristinas Meisterkonditorei
Crisp outer layer, perfect jam distribution, visually appealing.
Hofbäckerei Edegger Tax
This is how a Krapfen should be. It is fluffy, has a lot of jam and especially the presentation in the bakery is to bite!
Hubert Auer
The vanilla-Krapfen-fan was very satisfied, the jam-Krapfen-faction turned up its nose (on principle). The Krapfen from Hubert Auer is very high, the vanilla filling is recognizable from afar, he is probably the narcissus among the carnival Krapfen.
Martin Auer
We wanted to try something different and tasted Martin Auer's chocolate Krapfen. Conclusion: Good, chocolaty, but can it be too much chocolate? No, so quiet more filling please.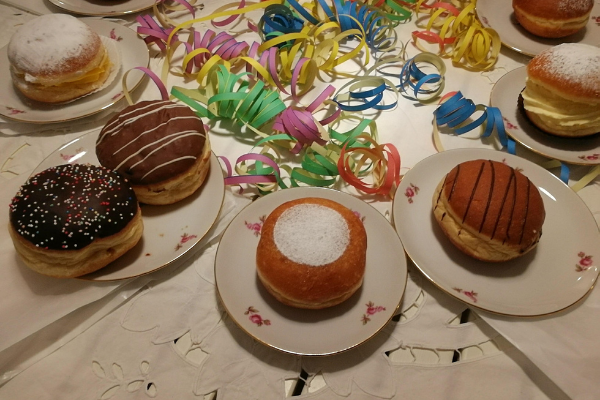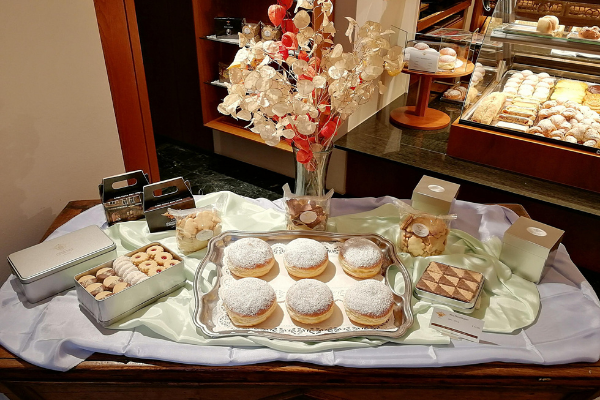 "Hofbäckerei Edegger Tax"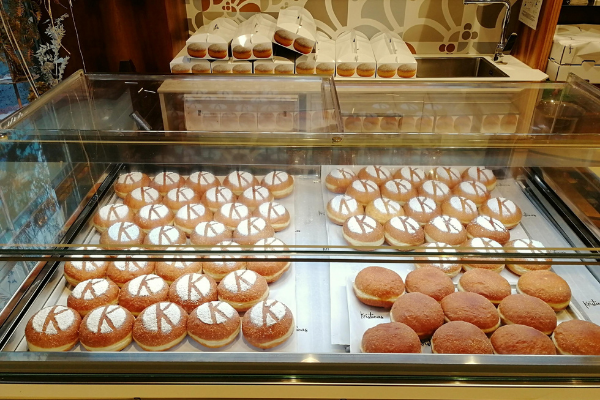 "Kristinas Meisterkonditorei"