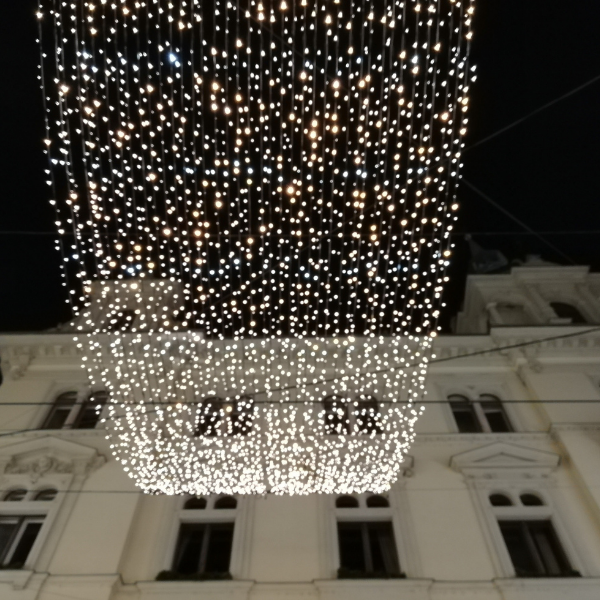 #38 Christmas Lights
Lockdown or not, even in Advent 2021 you can stroll through the city and admire the wonderful lighting. The streets and shop windows of Graz are festively decorated and such window shopping makes you want more and hope for better times. Walking is good for your health, good for your mood, it costs nothing and some Christmas decorations you will see for the first time this year.
Here we tell you about a special route that glitters and sparkles…
Start: Hauptplatz
Our local heroes OchoReSotto, visual artists from Graz, will once again make our town hall shine colourfully and in waves. Ingenious!
Herrengasse
The path continues into Herrengasse, which for years was decorated by the ``upside down Christmas trees`` and this year shines in a new light. Modern, spectacular, certainly worth seeing, but also partly kitschy and too much? On the way, two displays catch the eye: The teddy bears in the Schullin shop window, which are especially popular with children, and the legendary Haller window. We've been waiting for this all year...
Snack on the way
If you go on such long lockdown walks and gather so many new impressions, you should also have a snack along the way. Chestnuts, pretzels or macarons to go at Meszaros are right along the way. The display case full of colourful sweets also looks festive!
Schmiedgasse
Passing the enchanting Tausendschön, one sees them after all, the `` upsidedown Christmas trees ``. Some love them, others don`t understand them. You are supposed to feel here as if you are flying over a Christmas forest. We love the idea and this discreet and festive decoration that fits very well here in Schmiedgasse.
Sackstraße
After crossing the main square, you reach the noblest street of the past and present, Sackstraße. Note the breathtaking display of Kastner und Öhler and, just opposite, the charming, detailed, hearty, retro display of Konditorei König.
Mariahilferplatz
Either you decide to take a longer tour over the Schloßberg to admire the lights of Graz from above or you move to the last stop over the Erich Edegger Steg to the Mariahilferplatz. Circus Wonderlend, the somewhat different Christkindl market on the `` other side `` of the Mur, has opened it´s doors again. Visuals on the church façade, colourful party lights, a small dance floor and a lot of style and fun make this place our favourite. When there's glühmakava and Baumkuchen again, it's even more beautiful.