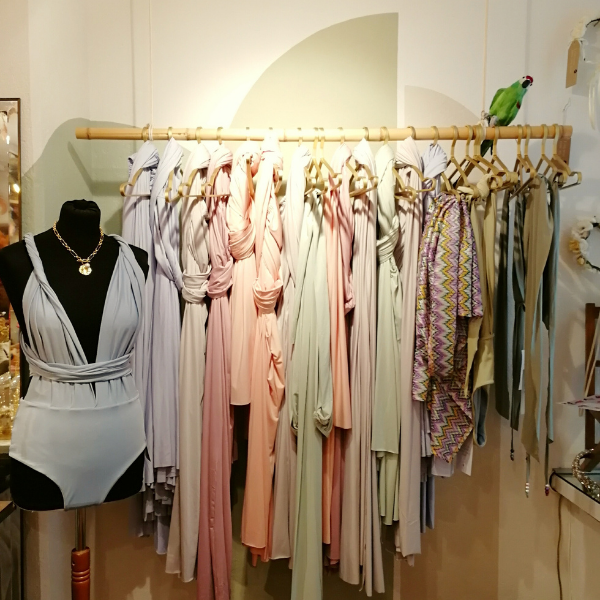 #36 Nice beachwear
In this blog post we tell you where you can buy the best swimwear in Graz. For us, nice doesn't just mean that you're guaranteed to look good in it, no, the pieces are not mass-produced but come from small shops that are only here in Graz. From trends like the Tarzan bikini to the men's swimming costume, everything is allowed this year!
Tropicalia
For a bit of Rio de Janeiro flair, the first stop is Tropicalia. Colourful swimming costumes, bikinis, beach dresses, jewellery and even sandals can be found in the small shop in Grazbachgasse. The owner Cacau is Brazilian and manages to weave the joie de vivre and tropical warmth of her homeland into her collections.
apflbutzn
This wonderful shop in Sporgasse is filled to the brim with fair fashion, fun designs and second hand pieces. The swimwear is also really cool! The bikinis, for example, are made from recycled marine plastic. The swim trunks are made of 100% recycled materials and have the most beautiful patterns from Graz to Hawaii.
White Bungalow
Here is the Trend Swimsuit 2021, a panty with two panels of fabric attached. This way `the piece `can be tied into a swimming costume or transformed into a party top. So you are always ready for a spontaneous pool party.
for children
Several shops in the centre of Graz have adorable items for girls and boys, e.g. from Liewood. Have a look at ` Tausendschön Kindertraum `, ` Pilzessin `, `Mamiladen ` or ` Popolini `.
Sestra
The fashionably woman will always find the right thing here. For example, bikinis from the famous brands Rabens Saloner and Love stories. Shoes, beach dresses, beach bags and much more are also sold here.
Offline Retail
In addition to second-hand swimwear, you can also find the IT piece for every bathing trip in Offline Retail: the swim bag. With colourful retro fabrics on the outside and oilcloth on the inside. So if you still have some wet stuff or the sun cream runs out, it doesn't matter.
Unterwäsche Herunter
For those who prefer a classic look and also value good advice, this is exactly the right place. Isn't the name ingenious (Herunter means ``falluing off)? In any case, no bikini falls off by itself here, everything is in its place, unless it's intentional...