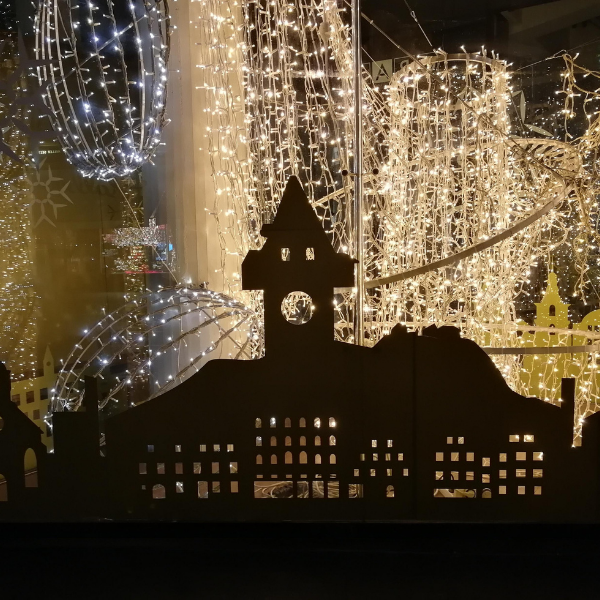 #28 window shopping
As is well known, looking forward to something is the greatest joy. So that the Christmas spirit comes up again this year, lockdown or no lockdown, we can recommend an evening walk through the Christmas-lit city. One display is more beautiful than the other and yet there is without a doubt a window that surpasses all others: Ferdinand Haller's shop window is already a Graz sight and should be admired every year. Which christmas tree ball should I take?
Da loam
The small display can also sometimes shock and surprise, on New Year's Eve it makes us laugh and at Christmas it is also an eye-catcher.
White bungalow
The new store in the heart of the city delivers everything you need for a festive evening, Christmas party, ball night etc. And if all that is forbidden this year, then throw yourself on the sofa with pyjamas and flower crown, just because...
Ferdinand Haller
Without words! Simply the mother of all Christmas displays!
Kwirl
Actually, we are already eagerly waiting every year to see with what the ` Kwirl ` in the Mariahilferstraße comes up again. This year there are many bizarre antiques on display and the usual original gifts. Everyone will find something there.
Kastner & Öhler
Every city that is worth its weight in gold has a department store that makes hearts beat faster and spares no expense or effort in terms of displays. Successfully!
Seidl Trachten
A relatively simple shop window that still attracts you, because often less is simply more.
Aiola Living
Did we say ` less is more '? In this case more is more, also cool!
Advent in Graz
Just opposite the ` Ferdinand Haller ` you will find a special sho window full of lights, hard to miss. The Christmas lights of the streets of Graz are concentrated in one window. Unfortunately, the background is a little worrying, because this beautiful store is empty. So our conclusion: Not only admire the creative windows and order online, but also shop in the unique stores of Graz.