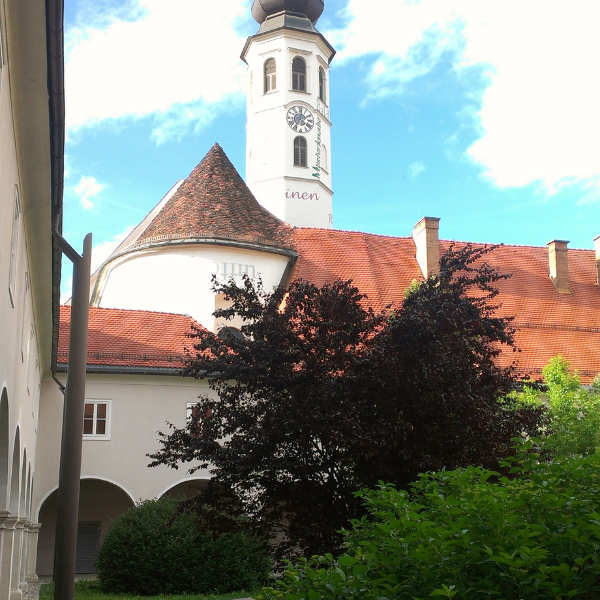 #25 Courtyards in Graz
People say Graz has this Italian flair and shows this Mediterranean attitude to life. The city is cosy, inviting, beautiful, world cultural heritage and capital of culinary delights. Graz certainly owes these descriptions and titles to its numerous courtyards. There are over 50 arcade courtyards in Graz. Some are privately owned, many are open to the public and you can't decide which one is the most beautiful. We will lead you to some particularly beautiful and very different examples, but of course this list is not complete. So don't stop walking through the city with open eyes and you will discover many more.
Provincial house courtyard
We start with a classic, quasi the mother of all Graz courtyards, namely the Landhaushof. This is the oldest Renaissance courtyard in the city and certainly one of the most beautiful. History and stories entwine themselves around this courtyard. Did you know that there are strict rules of etiquette here? You will find the black `` Rumortafel `` from the 16th century next to the two entrances, you should read them carefully.
Courtyard of the `` Deutscher Ritterorden ``
Small but oho, a real jewel of the old town with `` Murnockerl `` paving, ice cellar, arcades and stores. You will find it in the Sporgasse, as many other small courtyards.
Former Dominican monastery
Strictly speaking, this is not an inner courtyard, but a cloister. This courtyard is a great example of how to bring old walls back to life. Here you will find a kindergarten, restaurants, apartments, fountains, practice rooms for musicians and much more. The view of the special tower of the St. Andrä church is the crowning glory.
Herrengasse 13
Just next to our busy shopping street you will find this quiet, cool courtyard. It has also already experienced a lot. Which courtyard can claim to have been visited by Napoleon Bonaparte?
Griesgasse 24
Also our Murvorstadt has some great courtyards to offer. Not as pompous and groomed as in the city center, but all the more versatile, lively and exciting. Do you see the old ` Pawlatschengang ` and the old workshop?
Courtyards of the 19. century
In the districts of St. Leonhard, Geidorf and Jakomini you can discover typical courtyards of the 19th century. Small balconies look directly onto these green city paradises. A courtyard which is open to the public and has a legendary rose garden can be found behind the `` Hörsaal F ``, also called `` Café Fotter ``.