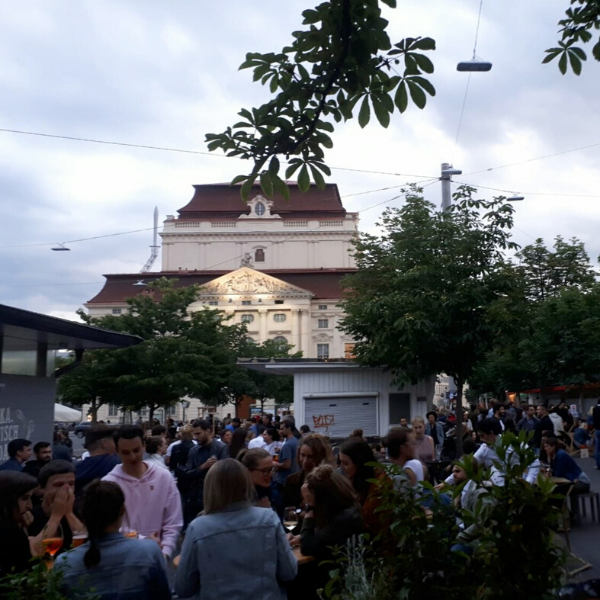 #22 Delicious Kaiser Josef Platz
A must do for all citizens of Graz and still an insider tip for all guests, that is the Kaiser Josef Platz. And this square has many faces. It changes daily from a farmers' market to an open-air bar. People meet here after work, before the opera, during lunch break and after a long night. At any time of the day and almost any time of the night you can eat and drink very well around the market. We'll tell you a few good places:
Delicious things around Kaiser Josef Platz:
Kaisers Smoked BBQ
The best place on the market and the epicenter on summer evenings. There is live music on a regular basis, you just sit on the market tables and enjoy great food and drinks. Opera singers and farmers, politicians and students come together here and on the whole you get along with each other. The tender meat is certainly soothing and contributes to the great atmosphere. https://www.facebook.com/KaisersBBQ/
Eschenlaube
Good inn, beautiful garden, nice staff, what more could you want? http://www.eschenlaube.at/
Sofisch
We admit that when the famous `` Meltschok `` was closed, we were a little worried. Wrongly so, as it turned out, because the successor pub/shop `` Sofisch `` continues to satisfy the appetite for seafood and fish. Here you can get a quick fish snack to go and also fresh seafood for the festive table at home. https://www.sofisch.com/
Theatercafè
Not far from the market place you will find one of the most wonderful places/ stages/ bars in town. It is a meeting point for the music and art scene, a beginning for many successful careers and until late into the night there is the famous scrambled egg. What can be so good about scrambled eggs you ask? Just try it and you will see! http://hinwider.com/
Brandhof
Here you will also find good traditional Austrian food, a cosy garden and friendly service. On the walls hangs the `` Who is Who `` who sang, danced and read in Graz. With the friendly smile of Udo Jürgens at your side the food tastes even better.
Genießerei
The `` Genießerei am Markt `` has already made it into the television a few times, won many prizes, well known chefs work and eat here and still it is a down to earth restaurant. They cook whatever the market offers and it tastes insanely good. https://www.geniessereiammarkt.at/