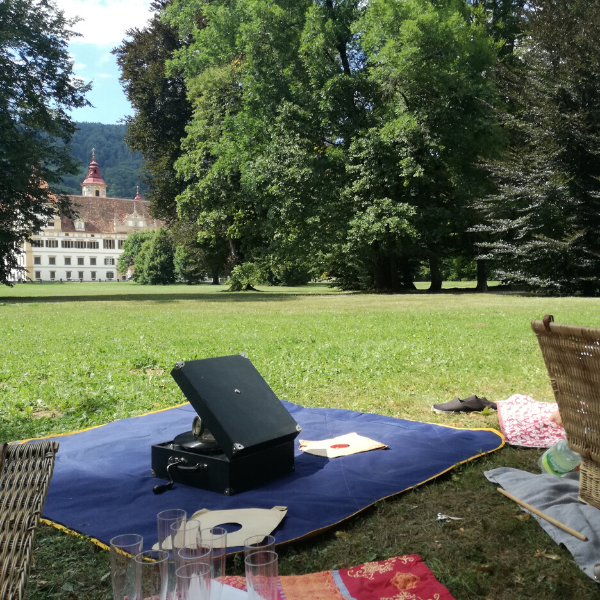 #18 Time for a picnic
The days are getting even longer, the meadows even greener, the weather even sunnier and warmer and the food is always a hit here in Graz anyway! So it is time for a picnic.
Some of the most beautiful places and where you get the best filled baskets, we'll be happy to tell you.
Eggenberg Castle picnic meadow
It could hardly be more splendid and stylish. A picnic in the castle park means eating with a view of Eggenberg Castle, the peacocks keep you company, the lawn and park are well-tended and the picnic baskets are filled and easy to pre-order in the pavilion. Voilá! If you would like to hear stories from the park, we recommend the whole package with picnic and guided tour of the park. https://www.museum-joanneum.at/schloss-eggenberg-prunkraeume-und-gaerten/ihr-besuch/programm/museums-picknick
Picnic with a view
A picnic on the Schlossberg offers probably the most spectacular view of Graz's old town. In the middle of the city, yet in the greenery and with the picnic baskets of ``La Mur``, which you can put together yourself, even with a touch of Côte d'Azur, this is only possible in Graz. www.lamur.at
``Genussregion`` Picnic
A basket full to bursting with the best products from Styria, from the Styrian ``Genussregionen`` the regions of delights, is available at ``Delikatessen Frankowitsch``. https://www.graztourismus.at/de/essen-und-trinken/genusstipps/gutes-zum-mitnehmen
modern picnic
If you don't like the classic ambience of the old town and would like to combine a picnic with a swim or bike ride, you will find all this in the Graz ``Skulpturenpark`` (sculpture park) in the south of Graz. https://www.museum-joanneum.at/skulpturenpark/ihr-besuch/programm/museums-picknick
Granny's Picnic
The charming restaurant ``Omas Teekanne`` has announced picnic baskets including scones and tea. Grandma flair meets Britpop is the motto here.<br /> It is going to be wonderful darling!