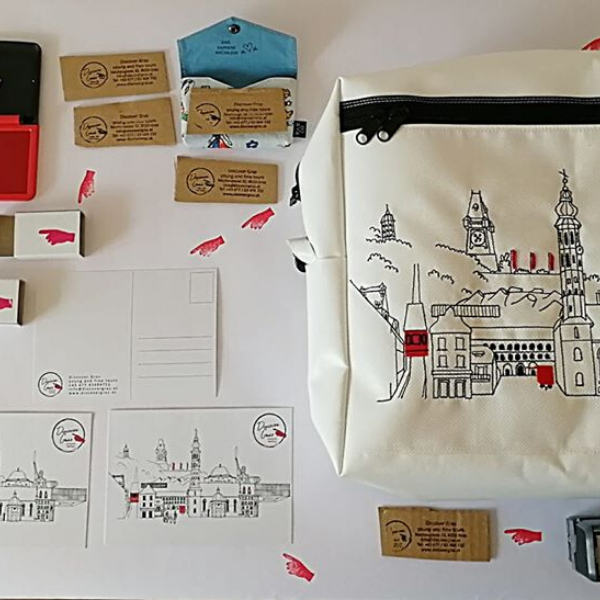 #1 Nice things for the new project
Everything the creative start-up heart desires:
The incredibly great bag from tag.werk. A unique item, publicity in public and practical on top of that. Thanks Vivien, you goddess at the sewing machine, we are still speechless! www.tagwerk.at
👆 Stamp as an eye-catcher, a special edition of "Schatz stempelt". The art of stamp carving can also be learned in the courses at "Omas Teekanne", we chose the more comfortable way and ordered the Discover Graz Finger. https://www.facebook.com/schatzstempelt/
The little bag for business cards of "Das tapfere Michilein" should not be missing, because in our opinion a little kitsch, a little colour, love for detail and self-irony should not be missing in any start up. www.dastapferemichilein.at
Our business cards are simply torn cartons stamped with our company stamp of Dunkler. An idea that helps the environment and saves money. www.dunkler.at
And of course the sensational graphics (here in postcard form) by Laura Feller. Actually no small thing, but the heart of our Discover Graz project. Exactly according to our wishes and taste, she managed to give Discover Graz a look, because there is also a lot to discover in her drawing. www.laurafeller.com
Thank you!